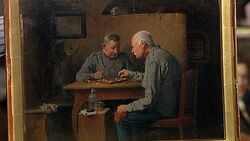 Soldaten beim Damespiel (Soldiers playing Draughts) is a painting by the well-known Bohemian-Austrian painter Friedrich Friedländer (January 10, 1825 – June 13, 1901). It shows two old men in uniform who sit in the basement of an inn and play checkers to while away the time. Friedländer who lived in Vienna specialized in genre works about the life of soldiers. A note on the back of this painting says that it shows invalids. The value of the painting is estimated at between 5,000 and 8,000 Euros.
External Links
Edit
Ad blocker interference detected!
Wikia is a free-to-use site that makes money from advertising. We have a modified experience for viewers using ad blockers

Wikia is not accessible if you've made further modifications. Remove the custom ad blocker rule(s) and the page will load as expected.