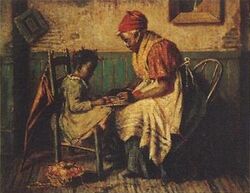 Playing Checkers is a well-known painting, oil on canvas,which was created by the American ethnic painter Harry Herman Roseland (1866-1950) in 1901. It shows an African American woman who plays checkers with her little daughter. The painting measures 16" by 20".
Harry Herman Roseland was one of the most notable painters of the genre painting school around the turn of the 20th century. Roseland was primarily known for paintings centered on poor African-Americans. He won many awards in his lifetime. These include gold medals from the Brooklyn Art Club (1888), the Boston Art Club (1904), and the American Art Society in Philadelphia (1907).
External Links
Edit
Ad blocker interference detected!
Wikia is a free-to-use site that makes money from advertising. We have a modified experience for viewers using ad blockers

Wikia is not accessible if you've made further modifications. Remove the custom ad blocker rule(s) and the page will load as expected.