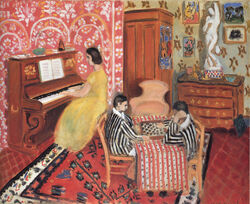 Pianiste et joueurs de dames (Pianiste and Checker Players) is a famous painting, oil on canvas, of the French impressionist Henri Matisse (31 December 1869 – 3 November 1954). He created this masterwork in 1924, while he was living in Nice. The painting measures 73.7 cm x 92.1 cm.
This genre painting of post-impressionist style is in the collection of the National Gallery of Art, Washington D. C, which received it from of Mr. and Mrs. Paul Mellon. It shows the artist's favorite model, Henriette Darricarère, and her two brothers playing checkers.
Matisse is known for his use of colour and his fluid and original draughtsmanship. His mastery of the expressive language of colour and drawing, displayed in a body of work spanning over a half-century, won him recognition as a leading figure in modern art.
External Links
Edit