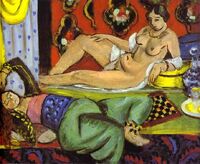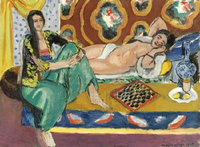 Odalisques jouant aux dames (Odalisques Playing Checkers) is a series of famous paintings, oil on canvas, of the French impressionist Henri Matisse (31 December 1869 – 3 November 1954). He created this masterwork in 1928, while he was living in Nice. Each painting measures 54 cm x 65 cm.
One of the paintings is still in the collection of the "Moderne Musset" in Stockholm (Sweden), while another one was sold by Sotheby's London for 11,5 million British Pounds on June 22,1010. Sotheby's described it as a "powerful and bold rendering of the theme of odalisques, one of the most spectacular and fascinating series of Matisse oeuvre".
Matisse is known for his use of colour and his fluid and original draughtsmanship. His mastery of the expressive language of colour and drawing, displayed in a body of work spanning over a half-century, won him recognition as a leading figure in modern art.
External Links
Edit