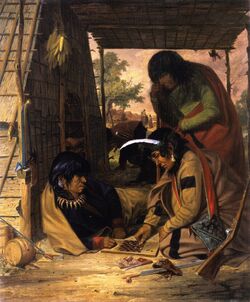 Chippewa Indians Playing Checkers is a painting, oil on canvas, by Seth Eastman (1808–1875), which he created in 1848. It measures 76.2 cm (30 in.) by 63.5 cm (25 in.). The painting shows Native Americans involved in the everyday activity of playing checkers. Its key idea is that through conscientious study, there is mutual understanding so that Indians and the white man can live peacefully side by side.
Seth Eastman and his second wife Mary Henderson Eastman were instrumental in recording Native American life. The Chippewa are among the largest groups of Native Americans north of Mexico. Today their total population numbers almost 220,000.
External Links
Edit
Ad blocker interference detected!
Wikia is a free-to-use site that makes money from advertising. We have a modified experience for viewers using ad blockers

Wikia is not accessible if you've made further modifications. Remove the custom ad blocker rule(s) and the page will load as expected.