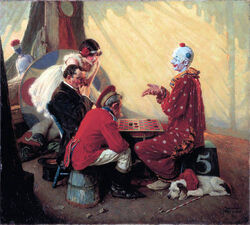 Checkers is a story illustration for Ladies' Home Journal, which was created by the American artist Norman Rockwell (February 3, 1894 – November 8, 1978) in July 1928. It shows an old circus clown named Pokey Joe who is coaxed by his friends into a checkers game to lift his spirits and renew his self confidence. The painting, oil on canvas, measures 35 x 39 in. (88.9 x 99.1 cm. Today it is exhibited at the permanent collection of the Norman Rockwell Museum in Stockbridge, Massachusetts.
Rockwell's works enjoy a broad popular appeal in the United States for their reflection of American culture. He is most famous for the cover illustrations of everyday life scenarios he created for The Saturday Evening Post magazine for more than four decades.
Besides "Checkers" he created at least two more paintings that depict the game: "The Last Move" (circa 1948) and "The Checkers Game" (1943).
External Links
Edit