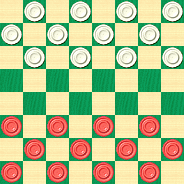 New pages
Welcome to the Checkers & Draughts Wiki
Checkers & Draughts Wiki is an online encyclopedia about the board game checkers (also called draughts), focusing on the 8x8 variant commonly played in the United States, Canada, and the United Kingdom. Though most tournament players reside in these areas, other countries with strong players and regular tournaments include Ireland, New Zealand, Barbados, South Africa, Denmark, Czech Republic and Germany. Additionally, certain variants of checkers, particularly 10x10 or "International Draughts," are extremely popular (and taken very seriously) in the Netherlands, the former USSR, and other areas.
This site is intended as a clearinghouse for information about checkers history, organizations, strategy & tactics, famous players and champions, current events, and checkers literature. The wiki format allows anyone to create or edit any article, so we can pool our knowledge and resources to enhance our own and the public's knowledge about the game.
News
Ad blocker interference detected!
Wikia is a free-to-use site that makes money from advertising. We have a modified experience for viewers using ad blockers

Wikia is not accessible if you've made further modifications. Remove the custom ad blocker rule(s) and the page will load as expected.