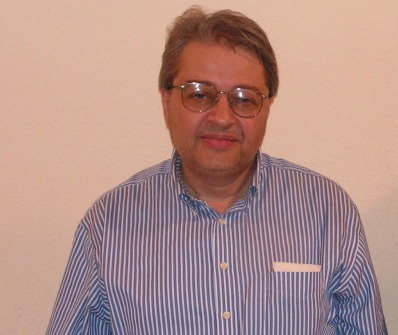 Alex Moiseyev, b. February 19, 1959, is an American checkers player, and is the current (2009) 3-Move World Champion. He holds a master or grandmaster rating in checkers, Russian draughts, and 10x10 draughts, and has been playing competitively since age 7. Alex currently resides in Dublin, Ohio, a suburb of Columbus, where he is the defending Ohio State Champion.
Biographical Timeline
Edit
Alex was kind enough to supply the following timeline about his life and early experience in checkers & draughts.
Part 1: Russian & International Draughts
Edit
1959: born in Malahovka, a small suburb about 20 miles from Moscow.
1963: first learns to play Russian Checkers (8x8) from his father, at age four.
1966: starts school in Russia, and joins the Youth Checkers Club at the Moscow Pioneer Palace.
1967-1971: achieves various honors in Russian checkers-- two youth category norms at ages 8 and 9, two adult category norms at ages 10 and 11, and finally a Candidate Master title at age 12.
1966-1970: holds title of Moscow Boys Champion in Russian checkers.
1972: joins the "Lokomotiv" checkers club, remaining a member until 1991 when he left the USSR.
1975: achieves Master Sport norm in Russian checkers.
1971-1976: holds title of Moscow Youth Champion in Russian checkers.
1976: finishes 3rd in the National USSR Youth Championship in Russian checkers, and leaves for Moscow Railroad University, where he majored in Computer Science and minored in Math.
1977: finishes 3rd in Moscow Russian Checkers Championship.
late 1970s: quits Russian checkers and transitions to 10x10 International Draughts.
1979-1991: plays in various International Draughts (10x10) events, including the Quarter Finals of USSR Championship. At the time he left the Soviet Union, he was ranked #17 out of 2000 players.
1982: wins Moscow International Draughts Championship on his first try. Also graduates with a Master's Degree in Computer Science and begins his professional career as a computer programmer, with the All-State Transportation Company.
1982: marries wife Galina, who he met in college.
1983: oldest son Michael born
1987-1991: competes in International Draughts composition contests, finishing 2nd in the 1991 USSR Composition National Championship, Miniatures-100 section.
1989: visits the United States for two weeks on vacation.
1990: repeats victory in the Moscow International Draughts Championship.
1991: immigrates to the United States, first living in New York with his wife and son.
1992: relocates to Pittsburgh, where he and his wife start working as computer programmers.
1992-1998: works with various software development companies as a consultant.
1994-1995: starts playing occasional email games with Dutch players.
1994: buys first house.
1995: second son, Paul, born.
1996: wins USA International Draughts Championship and earns Pan-American Association grandmaster title.
Part 2: Anglo-American Checkers
Edit
1996: takes up Anglo-American style of checkers, playing in the OH State Checkers tournament in Massillon and the USA National 3-Move Tournament in Danville, VA.
1997: starts playing online on a regular basis.
1997: wins the state championship title in PA, which he would retain until moving to Ohio in 2002.
1998: finishes 2nd in the 3-move USA National Tournament.
1998: is hired by PNC Bank, a Pittsburgh-based company.
1999: daughter Clara born.
1999: wins the USA GAYP National in Niagara Falls, NY, earning the right to challenge World Champion Ron King.
1999: son Michael finishes school and goes to Carnegie Mellon University, majoring in math.
2000: wins first 3-move National in Toledo, OH.
2000: ties GAYP World Championship Match (WCM) with Ron King: 3-3-18 (King retains the title).
2001: wins 3-moves Eliminator match over William Docherty in Morecambe, England (5-4-11), thereby getting the right to challenge Ron King for the 3-move World Championship.
2000-2001: in two years he and his wife lost 3 out of 4 parents, with only his wife's mother surviving.
2001: plays in the International Match (USA vs UK & Ireland) in Morecambe, England, scoring 11-0-9.
2001: 3-move WCM is canceled and Ron King is stripped off his title by the ACF.
2002: plays a 3-move WCM with Elbert Lowder, sanctioned by ACF, and wins 12-0-17. Recognized as World Champion by ACF but not by other National Federations.
2002: ties (6-6-8) 11-man ballot World Championship with Elbert Lowder.
2002: relocates with family to Columbus, OH, where his wife Galina started a new job; bought a new house and sold the one in Pennsylvania.
2002-2009: plays in more than 60 assorted Anglo-American Checkers tournaments and matches: International, National, and State. Of these, finishes in first place all but five times.
2003: as a permanent OH resident wins the OH State Champion title, and retains it until the present day.
2003: plays 3-Move WCM with Ron King in Cookstown, Nothern Ireland, winning 8-2-25. Finally recognized as World Champion by all National Federations and the new World Federation (WCDF) which had been created the same year.
2003: Michael graduates from CMU and starts his master's program at Pitt University.
2004: Michael gets married and moves to Philadelphia.
2004-2009: restarts old hobby of composing Intenational Draughts problems & endings, composing more than 1000 problems and publishing them online.
2005: Michael gets divorced after less than 1 year of marriage
2005: defends 3-move World Title against Ron King in Anderson, SC, winning 8-3-25.
2006:Michael relocates to New York and starts his Master degree in NYCU, majoring in Public Affairs.
2006: writes book Sixth, of which more than 350 copies have been sold.
2007: Michael gets his first professional job in the New York City Education Budget Department.
2008: finishes 2nd in the FMJD Composition World Championship, miniatures-100 section. Achieves FMJD Master norm (in composition).
2008: wins World Mind Sport Games in Beijing.
2009: wins 3-move WCM vs Ron King.