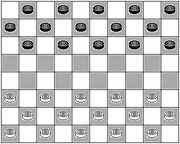 80-Kletochnie Shashki ("80-Squares Checkers" - 80-клеточные шашки), also known as Sovietskie Shashki ("Soviet Checkers" - советские шашки), is a modern variation of Russian Checkers, which was invented in Russia around 1930 by Nikolai Spantsireti (1916-1991). In 1934, V. N. Russo wrote a 74-page book about the game titled Sovietskie Shashki: Rukovodstvo dlja Nachinajushhih ("Soviet Checkers: A Beginners Guide").
The game has the same rules as Russian Checkers except for the larger board and therefore the larger number of men.
External Links
Edit
Ad blocker interference detected!
Wikia is a free-to-use site that makes money from advertising. We have a modified experience for viewers using ad blockers

Wikia is not accessible if you've made further modifications. Remove the custom ad blocker rule(s) and the page will load as expected.