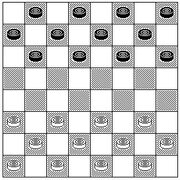 Česká dáma is also known as Czech Checkers or Czech Draughts in English-speaking countries. It is the most popular checkers variant in the Czech Republic. The game is a variation of German Checkers. Czech Checkers is promoted by the České federace dámy ("Czech Draughts Federation") as a mindsport besides International Checkers.
A close variant of Czech Checkers exists in Slovakia.
Czech Checkers has almost the same rules as German Checkers. The only difference is that should a player be able to capture either with a man or a crowned piece (known as dáma = "lady"), he must do so with the crowned piece.
Note:
The Czech Wikipedia confused the starting position of Czech Checkers with American Checkers. The official rules, however, state:
"Před zahájením partie je dvanáct černých kamenů umístěno na polích a7, b6, b8, c7, d6, d8, e7, f6, f8, g7, h6, h8 a dvanáct bílých kamenů na polích a1, a3, b2, c1, c3, d2, e1, e3, f2, g1, g3, h2. Pole na 4. a 5. řadě desky jsou volná."
External Links
Edit